How long have you been working for Miralu ?
Nearly 19 years now. I started in Profilor Then the company has been taken over by Otefal Italy and in 2009 it became Miralu which is a 100% French company.
What is your position in Miralu?
I am a Logistics Manager. I am in charge of organising shipments and transport, and ensuring our products are delivered to clients without a hitch. That involves order tracking, arranging despatches, scheduling pick-ups and booking lorries.
I have two goals: to provide a perfect service which gives satisfaction to our clients, and also to intensify our partnership with all our forwarders.
How would you describe a typical day?
Every day is different I am in constant contact with our clients from France or abroad for all type of inquiry (certifications, delivery time, etc.). I am dealing also with our forwarders (Feasibility, negotiation, orders) and internally I am collaborating with different departments such as production, planning, sales, shipping, etc.
What do you particularly appreciate in your job?
I have a transversal job, which needs a real adaptability. As I said, my contacts are internal but also external. I have no routine and that's what I especially appreciate.
How would you describe the atmosphere in Miralu?
The atmosphere is good. Everyone is trying to understand the other's constraints and to take it into account in his collaboration. People are involved in their job and there is a real solidarity.
Do you have some hobbies?
Yes I like restaurants, gourmet cuisine particularly. Regarding sport, I like swimming and I have been running for nearly one year now. I love gardening as well. I grow a lot of vegetables in my garden and all my family appreciate that!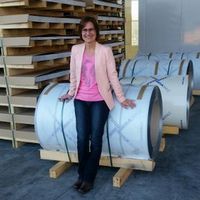 "My goal is customer satisfaction."