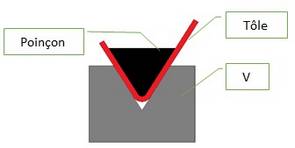 Coil coated sheets from Miralu can be tightly bent.
Coil coated sheets from Miralu can be tightly bent.
It's obvious: Aluminium sheets, coil coated by Miralu, are then formed into pieces by our customers. Mostly, forming consist in cutting the sheets following a template and then doing a series of bends & folds : from the flat sheet one obtain a complex piece ready to by assembled and put in place.
Bending, it is indeed deforming the metal and the coating.
As can be seen on the schematic below:
The outside of the bend is the most strained. To put it simply, one can consider the side in contact with the punch is not elongated while the part deep inside the die has to cope with a large elongation.
Strain increases as the angle of the die is tightened.
Strain increases as punch radius is reduced.
It is important to choose the right material for the part: a sheet of paper can be folded in any way, but a length of wood will snap with minimum strain. The above drawing largely explains our common experience, which tells us that thin material will bend better than thick material: the thicker the material, the more the outer surface of the bend is deformed, and the greater the risk that it will break.
Situation is the same for a coil coated sheet: the strain it can cope without failure depends on the metal and the coating used. It should be then defined, for all dimensions, the minimal angle & punch radius couples one could use.
Fortunately, tedious specifications tables can be avoided by defining bending severity with the schematic below where T is the sheet thickness. Theinner radiusof a flat bendis defined using the sheet thicknessas unit:
To offer our customers the largest freedom of use, Mirawallis designed to cope with the most severe forming. 1T and even 0T on demand. Mirabuild can be bent up to 1,5T.
Last but not least, those performances are meant without any cracks ndeed, the professional norm allows to define bending resistance either without cracks or with cracks but without peel off of the coating.