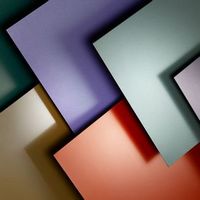 .
Bent, touched, deformed but always appreciated, the samples are THE privileged link between the customers and Miralu.
Everyone is asking for colours!
In 2015, we were asked to provide almost 3,000 samples! With a special craze for the textured finishes: Black 2100, grey 2600, grey 2800, 7016, etc.
With unusual destination such as: Dubai, USA, Canada…, and with different dimensions A5 – A4 – A3 – 1mt X 1mt
The aim is the validation but at different levels:
Colour and gloss
0T Bending, Bending radius
..
Fiberor CO2 laser cut
Transparent protection film on mat colours
Opaque protection film with high UV resistance
Gluing on wood panels
Gluing on expanded foam
Resistanceto chemical products
And also for other applications
Radiators,
Cleaning rooms,
Electrical boxes,
Lighting,
..
..