How long have you been working for Miralu ?
I have been working for Miralu for 12 years now. have started at the Shipping department. Then I moved to the Cut to Length Line as operator for 3 years. Finally I came back to the Shipping Department..
What is your position in Miralu?
Today I am in charge of the reception of the goods, raw material, and the shipment of finished products.
How would you describe a typical day?
I have a daily operations schedule to follow, starting with acceptance testing and readying raw materials for the production department, and shipping out the end products. There are three of us working two 8-hour shifts.
I am in contact with several Departments in Miralu. I am in contact with several Departments in Miralu. Quality Department for example in case of claims involving trasmport, Sales Department in order to refine the departures of the finished products, and also the planning Department in order to help the scheduling.
What do you particularly appreciate in your job?
My tasks are very different every day. I can be on my computer but also outside on my forklift. Moreover, to be in contact with all these in-house people (production, offices, etc.) is also very rich..
How would you describe the atmosphere in Miralu?
Friendly. We get along well with the colleagues of all the services. Our factory is clean and the work feels the effects of it.
Do you have some hobbies ?
Yes I like classical music (Mozart, Beethoven and Debussy for example), that relaxes me. I like very much Coluche and his caustic humour. I like re-building up houses also. I am about to end my first one. The automobile mechanics as well, is a passion for me. I fell inside when I was a child … I was 8 years old.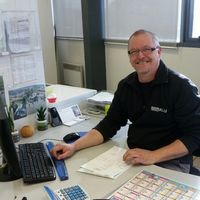 "contact with all these in-house people (…) is also very rich.."